FlushLine TR-16 Toilet Flapper for Kohler Class 5 GP1016546 & GP1042313
Special Price
$7.45
Regular Price
$15.74
FREE Shipping
on orders over
$50
Features
This Flushline 3-1/4" flapper replaces Kohler Class 5 K-GP1016546 and GP1042313.
Engineered of Dura-Chlor for long-lasting durability, resistant to Chlorine and hard water.
Quick and easy installation without tank removal or use of tools.
Perfect non-oem replacement for your leaky tank flush valve seal.
Proudly Made in the USA!
Toilet Flapper Replacement For Kohler Class 5 GP1016546 & GP1042313 3-inch Toilet Flapper
Flushline's replacement toilet flapper for Kohler Class 5 GP1016546 and GP1042313 toilet is a perfect fix to your flushing issues. This 3-inch flapper also fits Kohler's Bancroft 3487 and 4633, Cimarron 3496, 3497, 3499, 4634, 11465, and 11466. This heavy-duty flapper is easy to install, and includes stainless steel D-Chain and loop hook to eliminate chain fall-off. This flapper is a large bulb design, which fits toilets that are 2 pieces, made since 2005. FlushLine's flappers are made of state-of-the-art Dura-Chlor. Dura-Chlor is a chemical resistant, code compliant material that provides the highest quality and ensures a consistent seal every single flush. It is resistant to chlorine and hard water. Each FlushLine flapper comes in a specially engineered box that ensures the integrity of each flapper's shape. FlushLine flappers are made in the USA.
Why FlushLine Flappers?
Traditional toilet flappers are made of rubber and can deteriorate over time. This is caused impart to the toilet bowl cleaners you drop into the tank or by chemicals used by utilities. Over time rubber flappers will deteriorate thus causing your toilet to leak. FlushLine's flappers, however, are made of chemical resistant Dura-Chlor. Dura-Chlor is a chlorine resistant, code compliant material that provides maximum trouble-free performance to your toilet. Each FlushLine flapper is made with pride in the USA. Replace or fix your toilet flapper with a FlushLine toilet flapper.
How to Determine Your Toilet Flapper Replacement Size:
Step 1: Remove tank lid
Take the tank lid off of the tank and put in a safe place to avoid accidentally breaking it.
Step 2: Turn off water supply
The water supply valve is normally located on the wall, on the left side of the toilet as you are facing the toilet. Turn the handle clockwise to turn off the water. If the valve will not completely turn off, you can still proceed because it will not effect this simple replacement of the flapper.
Step 3: Remove the water in the toilet tank
If you would like to conserve the water in the tank, then use a small cup to scoop the water out and pour it into a larger container or bucket.
This water can then be used to water your plants. Otherwise, flush the toilet to remove the water in the tank. Since you already turned the water supply valve off, no water will be filled back into the tank and you're ready to remove the flapper. The water does not have to be completely removed, as long as it's just below the flapper. When you remove the flapper, any water left inside the tank will exit the tank anyway.
Step 4: Determine your current flapper size
Measure the width of the top of your flapper with a ruler or tape measure.
Existing flapper size: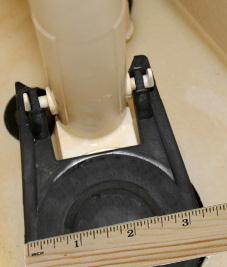 Replacement Flapper Size Needed:
Less Than 3-1/8 Inches = 2 Inch Flapper
More Than 3-1/4 Inches = 3 Inch Flapper
More Information

| | |
| --- | --- |
| Model | TR-16 |
| Availability | In Stock |
| Ceiling Light Mount | Flush Mount |
| Finish / Color | Red |
| Style | Transitional |
We found other products you might like!